Introduction to Golf: Free Junior Clinic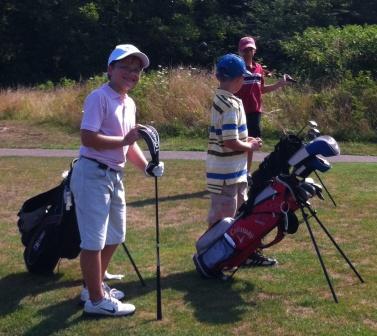 Recommended Skill Level: Novice
Grouped by age, this free one-hour introduction will teach basic safety, etiquette and full swing fundamentals to junior golfers ages 7-17. Participants will also learn more about Junior Golf I and Golf For Parents programs. Advance registration is required.
Click Here For Class Offerings
---
Junior Golf I – An Introduction to Golf
Recommended Experience Level - Novice
Junior Golf I is a must for any child desiring to learn the game of golf! During this three-week lesson, students will learn the fundamentals of golf, including swing techniques for a variety of shots, course management, rules and etiquette.
Click Here For Class Offerings
---
Junior Golf II
Recommended Skill Level: Completion of Junior Golf I or equivalent
After completing Junior Golf I, juniors ages 7-15 who want to improve specific aspects of their game will find Junior Golf II provides time for in-depth, personal attention to concentrate on individual problems. Lesson package includes video-taping and simulated course situations.
8:1 student/teacher ratio with a minimum of four and maximum of 16 participants. Classes will be based on ability, not age. Classes run for five consecutive weeks.